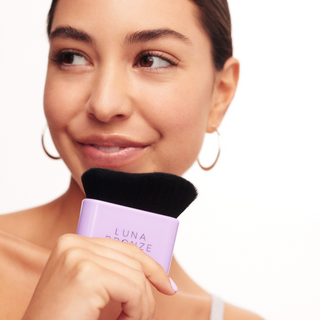 Influencers & Affiliates
Obsessed with all things Luna Bronze and want to reap the rewards for telling others how you get glowing skin?
At Luna Bronze, we want to change the way you see, use and view self tan. We believe that a clean, natural glow should be simple, skin-loving, and above all else; sunless.
The journey to create our skin-loving self tanning range began after a run in with skin cancer. As former lifelong sun worshippers and beach lovers, this experience was the wake-up call our founders needed to start looking after their skin. Intent on creating a product range that ticked every box for maintaining a skin-safe glow, Luna Bronze came into orbit.
Made in Australia and now stocked globally, it is our vision to change the way you tan. By also uniquely putting skincare at the heart of our formulas, we have created a movement of self-tanners with the celestial confidence that comes from feeling divinely radiant inside and out.
What options do I have to work with Luna Bronze?
If you have a website, blog or social media presence, you can join the sunless squad by becoming a Luna Bronze affiliate. Signing up is free and allows you to earn commission every time your community shops at lunabronzetanning.com. 
PERKS OF THE AFFILIATE PROGRAM
Earn 12% commission for every qualified purchase that you refer
Access to exclusive affiliate promotions, banners and newsletters
UGC gifting and content creation opportunities 
Access to apply for additional paid campaign partnerships
Ready to join? Apply directly via Shopify Collabs.
I don't want to be an affiliate, but I am interested in creating UGC content!
We regularly work with content creators on an ad hoc basis via The Lobby and Skeepers. Please join and apply directly through those platforms - we do not accept UGC partnership requests via any other channels. 
Alternatively, please send through your rate card to creators@lunabronze.com.au and one of our team will get back to you if working together is of interest.
What about if I am an influencer looking for a paid partnership?
We don't work on paid partnerships with any creators who don't already love and talk about the Luna Bronze brand.
The best way to get our attention for a potential paid collaboration? Sign up to our affiliate program and start talking about the Luna Bronze brand on your channels so that our team can see how much trust your audience has in your recommendations.